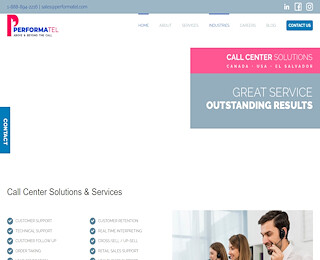 Before you consider outsourcing your calls to one of the many offshore call centers around the world, consider how your customers will feel when they reach out to your company and hear an unfamiliar accent. At Performatel, we know that saving money is at the top of your list of reasons for outsourcing incoming call answering; we can help you save without losing customers in the wake. Our goal is to provide your callers with exceptional quality service while lowering your cost-per-call. Feel free to contact us when you're ready to look at affordable plans.
Why Do Companies Outsource Calls to Offshore Call Centers?
The simple answer to this complex question is that many companies care more about their bottom line than they do about how they treat their customers and clients. Make sure you're not listed among the ever-increasing multitude of brands that have cashed in on offshore call-answering at the expense of customer experience. Performatel's live, English-speaking agents and interpreters can provide superior service when calls come in; here's how we can help:
Managing all inbound and outbound calls
Pick up overflow calls during peak hours or seasons
Process credit card orders
Answer questions
Provide company information
Offer technical support
Handle customer complaints or address concerns
Deliver friendly voice-on-the-line service
Improve customer retention
Take messages and redirect calls
How Can My Company Overcome the Language Barrier?
Most callers in the US want to hear an English-speaking agent answer when they pick up. Reports show that even a slight accent or deviation from American speech results in a high rate of hang-ups from callers. Hiring Performatel's clear communicators will significantly improve your caller's experience when they reach out to your company. English-speaking agents can redirect callers who speak another language to one of our live interpreters, so their needs will quickly be met. Our services reduce hang-ups, increase customer satisfaction, and come at a very affordable cost to your company.
Why You Should Avoid Offshore Call Centers
Call answering at a fraction of the cost of what you're currently paying can be tempting, and can seem like an enterprising idea on the surface. A better option is to think about how your callers will react when they're unable to communicate with agents who try to assist them over the phone, but are unable to, due to the fact that they don't speak the same native language. While offshore agents do a fair job of representing the companies they work for, your customers deserve better than 'fair'- they deserve the highest quality of service you can afford.
Save With Performatel
Our call answering services cost a lot less than you think. Contact one of our agents to discuss plan options or browse the resources on our site to learn why choosing us for call center services is the right choice. We're pleased to offer your company digital solutions, as well, including live website chat, SMS and email response, Internet Relationship Management, social response, and so much more.
Offshore Call Centers